Products /
A1000 heavy loads
From manufacture to installation, the A1000 lift is totally flexible. A favorite among architects and engineers for its high quality, the A1000 fits well into offices, apartments, stores, schools, hotels, restaurants, factories, public buildings and private homes. This platform lift includes a shaft in your chosen RAL color with a glazed or stainless steel finish. The maximum lifting height is 13 meters with up to 7 stops. The rated load is 1000 kg.
The large platform and capacity makes this lift ideal for carrying heavy loads as well as providing cumbersome or unwieldy goods access to different floors of a building. With its larger capacity and size, but with all the advantages of a platform lift such as a minimal 130 mm floor recess and reduced headroom above the top floor level of 2350 mm, the A1000 really offers the best of both worlds. An entrance of 1300 mm wide is possible, as required in many care homes and medical centers.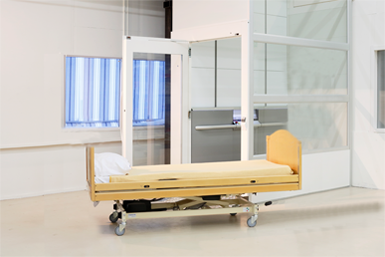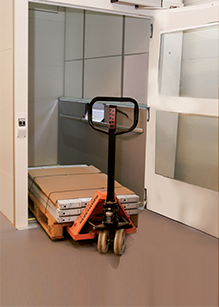 Tecnical Specs
Lift Description

Smart Elevator is a well designed screw-driven platform lift, especially suitable for situations where simple installation is required without unnecessary alterations to the existing building. The electrical lift is aesthetically styled and thus is suitable for all environments. The high quality makes it very reliable and is a favorite among many customers.

The lift structure is covered by toughened and laminated glazed or steel panels, providing a stylish and reliable platform. The nominal lifting capacity is 1000 kg and the maximum lift height is 13 meters.

Country of origin
The lift is produced as full package in Sweden. And shipped to your site according to site drawings.
Rated load
1000 kg / 12 persons
Rated speed
0,15 m/sec
Travel height
Up to 13 meters. 7 stops
Pit
No pit or 13 cm
Overhead
250 cm
Shaft
A complete readymade steel shaft painted in our white color RAL 9016 (inside/outside) with the corner profiles will be delivered in natural anodized aluminum. A solid and self supporting shaft made of prefabricated soundproofed steel panels which can be mounted without welding to avoid weld spot damages during the installation.
Glazed shaft
The glazed part is made of safety laminated glass panels with a frame of natural anodized aluminum. The shaft is glazed according to attached drawing.
Doors fronts
The doors can open from two sides, the opposite sides. The swing doors can open right or left manually or automatic as per your choice. A variety of aluminum and steel doors are available.
Doors
The door net opening is 900 X 2000 mm (width X height) for standard size; other sizes are available. The doors are made of powder coated steel. Aluminum and fire rated doors are available.
Platform
The Platform Carriage is powder coat finished in metallic silver, RAL 9006. The floor is covered with a dark-grey Norament rubber mat. The control panel is lit, has a modern design and is angled for easy access. The L-shaped lifting platform has sensitive safety edges all around for added safety.
Power
3 x 380 VAC, 60 Hz, 16 A, 3 x 4,5 mm², soft start and stop. The rated motor power is 4 kW.
VVVF
Soft start and stop Frequency converter is integrated in the lift.
Drive system
Screw drive.
Door lock
The smart lift have a concealed lock
Load control
The lift is equipped for access load control device
Control system
Auto. Ergonomically designed control console with extra large floor designation buttons for easy handling. The battery supported alarm system is prepared for further connection to an alarm central or similar. Microcomputer based control system with a built in SumAlarm with a potential free contact for remote location. CANSee service support system for fault tracing and various Adjustments.
General info
Smart Elevator A1000 is certified by the notified body DNV according to the Essential Safety Requirements of the Machinery Directive 2006/42/EC and complies with all the Safety Requirements of the Swedish standard SS 2097-7 and ISO 9386-1. All lifts have SASO compliance certificate.
Tested and certified
EuropeanStandards& Directives
2006/42/EC
The lift is certified by the notified body DNV according to the Essential Safety Requirements of the Machinery Directive 2006/42/EC It is EC type tested and certified by the Det Norske Veritas (DNV).
EN 81-41
Complies with European Standard for Vertical Lifts.
EN 50 082-1,Class 1
Complies with European Standard for Vertical Lifts.
EN 50 081-1,Class 1
SwedishStandard
SS 2097-7
Comply with all the Safety Requirements of the Swedish standard SS 2097-7 and ISO 9386-1.
BFS 2006:26 H10
Planning.regulations.Swedish National Board of housing, building and Planning Regulations.
International
CE- 98/37/EC
CE-conformity Type Certification No. 02-SKM-CM-0502 Issued by Det Norske Veritas (Fulfils the provisions of 98/37/EC). Every lift is CE marked and holds a Declaration of Conformity.
SaudiStandards
SASO-Lifts
Comply with Saudi Arabian Standard Organization.
Organizations
Int. Labs &Standards
Options for A400 Series
Panoramic
Glass doors and shaft. Complete panoramic or partial.
Battery
Emergency lowering device battery for evacuating passengers.
Lock system
Door lock system by using smart cards or keys to prevent un authorized use/misuse of the lift.
Coloring
The shaft, doors, platform, corner profiles can be colored with your choice
Communication
A phone, intercom, or GSM can be ordered with Smart Elevator to enable passenger to communicate with outside.
Auto-openers
The doors open automatically when the push button is pressed
Remote control
Remote elbow buttons and remote call buttons: Combined with automatic door openers can be used instead of push buttons, to facilitate the opening of doors.
Floor
Wide range of selective floor finishes
Doors
A variety of complete panoramic vision panel, pure aluminum , powder coated, and fire resistant doors are available to choose from
Drawing Details General Guide